Archive for October, 2005
Sunday, October 23rd, 2005
Rather interesting automobile design concepts…
Sunday, October 23rd, 2005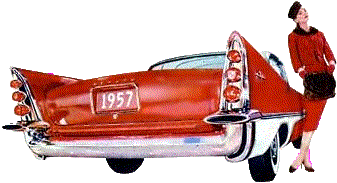 Thrillville is a City of B Movie Dreams in a State of Culture Shock, where Time stands still and aesthetics supercede politics; where monsters, babes, hipsters and swingers mingle and mate over martinis and Mai Tais; where Style rules over Fashion, where Elvis is King, the Rat Pack rules, and Will the Thrill, a beatnik lounge lizard, is Mayor.
Mr. Thrill and his lovely assistant, Monica, Tiki Goddess, host a live cult movie cabaret all around the Bay Area and beyond, which celebrates classic space age pop culture…this is the place where the future promised by the past is our present to you!
HEY THERE HEPCATS, SEX KITTENS, LOUNGE LIZARDS, TIKI WORSHIPPERS, B MOVIE BUFFS AND ALL AROUND THRILL SEEKERS
Thursday, October 20th, 2005
Action: Take the time to open doors you never knew existed. Explore the site and I know you will uncover some beautiful tunes by a member of the Record Collector's Guild. For me, his latest song "Rise 2005" evokes memories of many classic rock artists and influences – with a fresh sound.